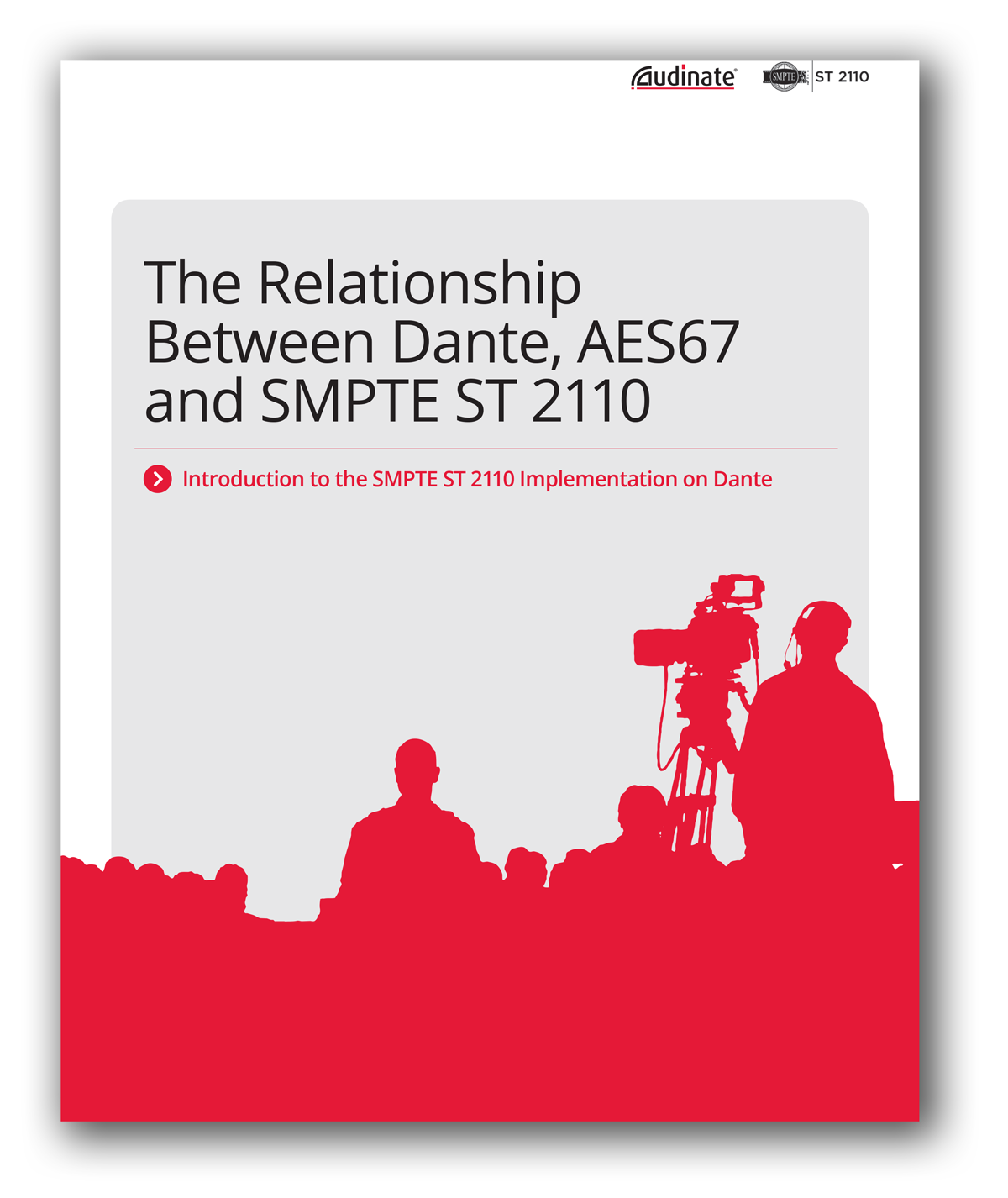 Learn more about Audinate's release of SMPTE ST 2110 interoperability and pre-existing AES67 implementation
At Audinate, we felt the release of ST 2110 interoperability was a good time to share our vision for how Dante and open standards work together. This white paper also offers clarity on some myths and misconceptions we hear in the market today, especially around PTPv1 and PTPv2.
Find out how Audinate's Dante can transform what educators do with campus audio with the inclusion of Dante Domain Manager.
Whether you are trying to facilitate recording a lecture by a visiting scholar, give and record a performance in a space using equipment already setup in another area on campus, or distribute the play-by-play action of Friday night's big game to students from locations all around the school, Dante Domain Manager is the complete network management solution for your campus!
In this white paper, find out how Dante and Dante Domain Manager can solve problems unique to campus AV systems and transform campus facilities, workflows and the student experience.
Real-world lessons at the AoIP convergence of AV and IT in a mixed-use IT infrastructure.
IT managers increasingly expect AV systems to be integrated with enterprise data networks, but they may not be familiar with the specific requirements of audio-over-IP systems and common AV practices. Conversely, AV professionals may not know the concerns of IT managers or know how best to achieve their goals. This whitepaper helps both sides understand each other's needs when utilizing AoIP.
The largest annual audio networking survey results are in! Learn the trends from RH Consulting's latest survey
Audio professionals need to know what's happening in the industry in order to serve their clients and attract new ones. 
This 2016 independent survey from RH Consulting draws on audio professionals around the globe. It answers the questions - How fast is audio networking growing? Which audio networking protocols are being used, and why? The trends are clear for those wondering about the future of AVB, Cobranet, Dante, EtherSound and RAVENNA.
Dante has opened the door to a new world of custom-designed, feature-rich AV systems without the prohibitive costs.
Performance, versatility AND affordability?
Integrators, consultants and their customers looking for an audio system that offered a simple design that was easy to install, yet delivered high performance, versatility and a reasonable price used to be out of luck. Then Audinate launched its Dante audio networking solution and their luck changed.
The critical components of a complete, interoperable audio networking solution.
While there is much debate about different standards and protocols within audio networking, the reality is that it takes much more than just standards to create a truly usable, interoperable audio networking solution. This new whitepaper examines the three critical pillars of audio networking that sit on top of this foundation.

A "must read" from RH Consulting
A detailed examination of audio networking today, revealing growth rates and market forces that are rapidly leading to an industry-wide convergence.
Worldwide survey reports bright future for audio networking.
In 2015, audio and AV consultancy RH Consulting carried out a survey on the use of audio networking and this was done in conjunction with four magazines - Systems Contractor News, Installation International, Pro Sound Asia and Pro Sound Middle East. The purpose of the survey was to try and find out how much audio networking is going on and what choices people are making.